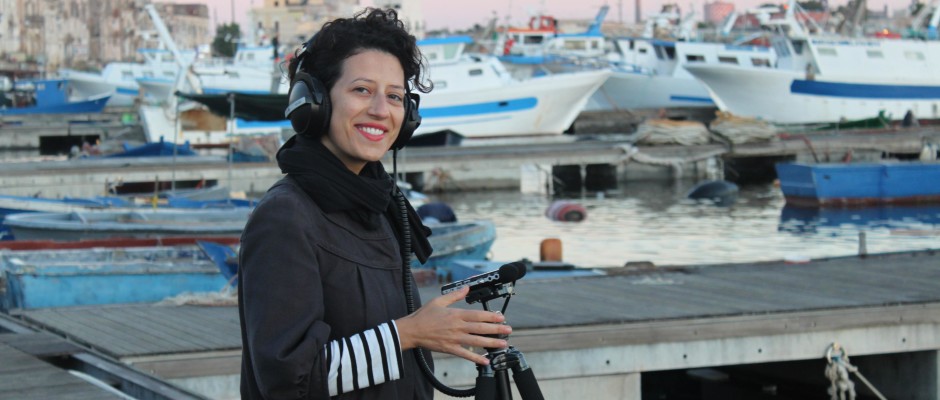 Alessandra Eramo (Italia/Alemania)
Alessandra Eramo (*1982 Taranto, Italy)  is a Berlin-based  artist and composer who works primarily with voice and noise. She creates performance pieces and text-sound compositions, but also videos, drawings and site-specific installations, exploring latent acoustic territories of the human voice. Pushing the boundaries of sound poetry and vocal performance art, she investigates the tension between vocality and writing, the physicality and trance-like states in singing. Her artistic production focuses on the juxtaposition of pleasure and disturbance, fragility and power, memory and the present, public space and intimacy. She was trained in classical singing, piano and music theory since an early age, she completed her studies in intermedial arts, performance and experimental music in Milan, Stuttgart and Venice. She has performed and exhibited internationally at many festivals, museums, galleries, theatres and independent art spaces, such as: Audiorama Stockholm, FLUSSI Media Arts Festival Avellino, PACT Zollverein Essen, Museum FLUXUS+ Potsdam, Harvestworks New York, Liverpool Biennial 2012, Padiglione Italia nel Mondo – 54th Venice Biennale.
Co-founder of "Corvo Records – vinyl & sound art production" where she released  her solo LP Come ho imparato a volare, and the 7" Roars Bangs Booms in 2014, based on the onomatopoeic words from the Futurist Manifesto "The Art of Noises" by Luigi Russolo. Currently she's working on her new solo-release of recordings made during her residency at EMS Stockholm. In 2017 she's invited artist at the Biennale Thessaloniki to show Migratory Echoes, a work based on interviews to emigrants about the concept of "Home". Collaborations with composers, artists and performers include Tomomi Adachi, Brandon LaBelle, Marta Zapparoli, Seiji Morimoto, Doug Van Nort, Maria Iorio & Raphaël Cuomo, Ines Lechleitner, Noha Ramadan.
She's member of the group, "Errant Sound Art Space" in Berlin, where she lives and works.
Website: www.ezramo.com